Contact us
HEAD OFFICE
Et In Arcadia Ego Ltd
Repton Manor
Repton Avenue
Ashford, Kent
TN23 3GP UK
life@deathcigarettes.com
WEB SHOP
life@deathcigarettes.com
WHOLESALE
benn@deathcigarettes.com
PRESS
benn@deathcigarettes.com
GENERAL
life@deathcigarettes.com
WEB RETURN ADDRESS
FAO DEATH Cigarettes
c/o Miracle Kim 2Surface Leather Ltd
Unit 4i
Blenheim Park Road
Nottingham
NG6 8YP UK
Patch Set Multi A
DETAILS
• IT'S YOUR FUNERAL: PROTEST PATCH 9cm x 4.9cm
• TOO BAD YOU'RE GONNA DIE: HEALTH WARNING PATCH 9cm x 6.9cm
• 100% Embroidered
• Cotton Twill Base Fabric – Polyester Satin Base Fabric
• Durable Polyester Thread – 100% Viscose Filament
• Heat Seal Iron-On Adhesive Backing
• Made in Istanbul
• No Retreat. No Surrender.
Choice. Responsibility. Consequence. Reminder. Intricate details. Tight weave pattern. Smooth texture. Long-lasting. DEATH™ embroidered patches have a traditional, layered look to them with a durable, long-lasting, heat-seal iron-on adhesive backing that takes care of all edges and makes for easy application to hats, jackets, backpacks, wedding dresses, clergy outfits, police uniforms, and all manner of masonic kit. Dense heavy embroidery on tough, durable high-quality cotton twill using the best polyester thread – viscose filament gives the patches a thicker feel with a certain lift and three-dimensional look. The bottom line, the patches will liven up whatever takes your fancy. Captivating. Seductive. Entrancing. To live Ingloriously is to Die Daily.
Patch Application Instructions: Place the patch on the garment, embroidery side up. Place cloth or towel over the patch. Iron over patch on high for about 30 seconds. Repeat the procedure inside the garment, underneath the patch. For good measure, secure it with a few stitches around the edges of the patch.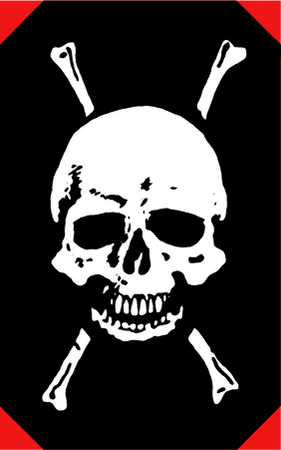 Follow us