Contact us
HEAD OFFICE
Et In Arcadia Ego Ltd
Repton Manor
Repton Avenue
Ashford, Kent
TN23 3GP UK
life@deathcigarettes.com
WEB SHOP
life@deathcigarettes.com
WHOLESALE
benn@deathcigarettes.com
PRESS
benn@deathcigarettes.com
GENERAL
life@deathcigarettes.com
WEB RETURN ADDRESS
FAO DEATH Cigarettes
c/o Miracle Kim 2Surface Leather Ltd
Unit 4i
Blenheim Park Road
Nottingham
NG6 8YP UK
Skull 'n' Bones - Bumper Sticker
DETAILS
• 110g outdoor vinyl.  
• 25cm x 15.9cm  
• Thick Weatherproof Vinyl  
• Strong Adhesive  
• High-Resolution Print  
• Tough Paper Backing, Easy Peel.  
• Strong Adhesive  
• Made in Istanbul  
• Stick it to the Man! (or Woman!)
DEATH™ sticks. Full-stop.  We are ludicrously proud of our awesome vinyl sticker. Slap it on a Bentley, bike, boat, laptop, skateboard, guitar, suitcase, window, helmet, mirror, snowboard whatever. Our quality sticker lets everyone know you know what's going on. Ain't nothin' wrong with that. A simple iconic image in high-resolution print. Vinyl gives a slight stretch making it easier to apply to both flat and curved surfaces. Approximately 10ml (255 microns) thick (including the liner - which is about as thick as a Tarot card), our stickers are made to withstand wind, rain, and sunlight. They are coated with a high-quality protective UV laminate that makes them durable and resistant to fading, scratching, tearing, and water. Think it. Buy it. Stick it.      
• Tenacious  
• Cohesive  
• Adhesive
• Relentless    
• Six feet of Earth makes us all equal.  
Sticker Application Instructions:  Think about where you want to stick this awesome sticker. Peel off the back of the sticker. Stick it in the spot you thought about. Stand back and admire your fine work.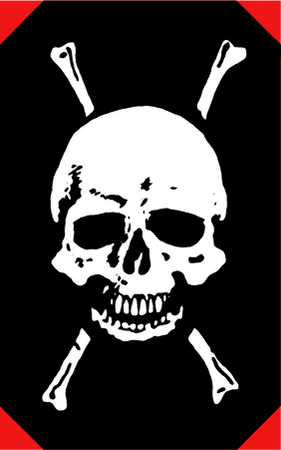 Follow us